Kiezteams
Our neighborhood teams (Kiezteams) have collected signatures all over Berlin and organized the referendum. They're now working at the local level to ensure that the people's vote is implemented. In the Kiezteams, people from the neighborhood get to know each other, plan actions together, prepare events, have door-to-door conversations, and ask stores, cafés, and associations if they support us. More than 1,000 people are now active in our Kiezteams.
Workgroups
Through our collective action, we built a structure that enabled us to successfully win the referendum. But our work doesn't stop there. We need you to continue to put pressure on politics and fight for a livable Berlin! Join one of our working groups and help us keep Berlin our home.
Tenant initiatives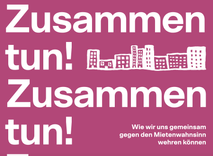 Found a tenants' initiative!
Dear neighbors!
Have you received a rent increase, modernization notice or other imposition from your landlords? Or are you afraid that something like this is coming soon? Would you like to fight back with your neighbors so that everyone can stay in their apartments and still have money to live on after the rent?
Get organized, get to know your neighbors, and found a tenants' initiative!
Our brochure, Zusammentun, shows you how. Together we can defend ourselves against the rent madness!